With over 90 universities, Canada ranks among the most popular destinations worldwide for international students. Its colleges and universities are known for their high academic standards, making them increasingly attractive to international students.
You'll be part of a thriving and diverse student community when you study in Canada. You'll meet other international students from different parts of the world, an experience that you may find both enjoyable and enriching. In addition, there's a good chance that you can enter the labor market immediately after graduation.
If you're interested in studying in Canada as an international student and want to know the steps to be approved to study in Canada, then read on.
1) Choose A Program And Educational Institution
The first step to being an international student in Canada is deciding on a study program. You may opt for a college or a university program. College programs take one or two years to complete, while standard undergraduate university programs are three or four years long.
Generally, university programs are rigorous, but college programs are also stringent and comprehensive. Whether you opt for a college or university, you may have to verify if it's a Designated Learning Institution (DLI). This means it's authorized by the government to host international students.
2) Apply For Admission
After deciding what program to take and which DLI to go to, the next step is to apply. You must provide accurate information and the requested documents. Note that there may be general admission requirements and program-specific requirements.
Your chosen school or a designated third party will check your application and determine if you're eligible or qualified to apply. Secure your academic credentials, such as a report card, transcript of records, and high school diploma, because these will be required.
Once you've completed the application process, you need to wait for an acceptance letter to move on to the next step.
3) Understand And Prepare The Requirements
Aside from the documents you submitted when you applied for admission, there may be additional requirements once you get accepted to a Canadian college or university.
Understanding and complying with the requirements is crucial for international students who want to study in Canada. This process is a long and tedious one. For the Canadian study permit alone, you must prepare for it for at least one year before enrolling.
Thanks to technology, you can now apply online for a student permit. And as you submit your application, you must include an acceptance letter from the college or university you'll be attending.
On top of the student permit, there may be additional requirements, depending on the province, so this step must be performed carefully and methodically.
Generally, universities require proof of English or French language skills, an updated passport, and evidence that you can finance your study.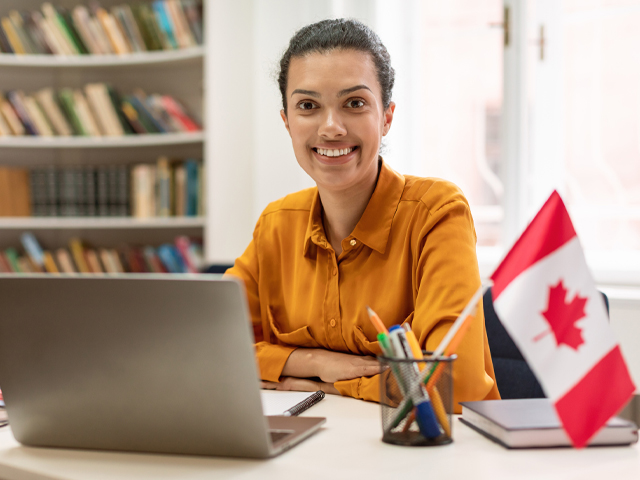 4) Prepare the Budget
The budget is also part of the requirement to get approval to study in Canada.
Thankfully, studying in Canada is more affordable than in other countries like the United States, the United Kingdom, or Australia.
Note that the expenses vary from province to province and from one university to another, so getting a rough estimate is essential to prepare well. On top of the school fees and books, you also need to consider the cost of food, housing, clothing, transportation, health insurance, and more.
You can apply for scholarships if you need help to finance your studies. Many institutions offer various scholarships, so looking into this will significantly help. You can also get financial aid from fellowships and grants. Moreover, you can consider getting a part-time job while studying.
5) Get Ready To Go To Canada
Before flying to Canada, ensure you have everything set and ready. You'll need your tickets, cash for emergencies, visa and permits, and other necessary documents.
As for housing, you may choose to reside on or off campus. If you live outside the campus, you can check and plan the best route from your accommodations to the school.
With the help of the internet, you can have a virtual tour of your campus so you can familiarize yourself with the facilities and buildings.
Conclusion
In the flat world that we live in, going to faraway places is faster and more convenient, and studying in a foreign country is much more feasible than ever before.
To study in Canada as a student, you just need to go through five simple steps. These include deciding on a course and school, submitting your application, complying with the requirements, preparing the budget, and making the necessary arrangements to move to Canada.
Earning a degree in Canada can give you better prospects for the future. It also offers a path to permanent residency and citizenship should you wish to stay there for good.